My first-ever visit to the city that never sleeps was an extraordinary adventure, thanks to Staypineapple New York who played a crucial role in making this once-in-a-lifetime mother-daughter trip an unforgettable experience.
Staypineapple boasts a unique and vibrant collection of 10 boutique hotels scattered across the United States. With locations in cities including New York, Chicago, San Francisco, Boston, Seattle, Portland, and San Diego, each offer guests their own one-of-a-kind ambiance. Staypineapple's commitment to providing fun, funky, and fabulous accommodation for travellers is evident in every detail. So sit back, relax and allow me to share all the intricate details of our stay…
CHECK IN AND RECEPTION
The check-in and reception experience at Staypineapple was nothing short of exceptional. Being able to complete our check-in online before we'd even arrived in the city set a new standard for efficiency. I was genuinely impressed; we hadn't even boarded our flight from London, and I already felt taken care of.
Upon arriving, we were warmly greeted by what Staypineapple refers to as their 'Everything Person' at the front desk. This unique title perfectly encapsulated the level of service we received. Not only did they offer us an early check in, but they also went the extra mile by providing us with insider tips and recommendations for dining options near the hotel and must-visit places within walking distance.
Staypineapple's customer service goes above and beyond efficient check-ins and warm greetings; it extends to their delightful and innovative "CORE Welcome Drink" amenity. At check in, guests receive "The CORE Welcome Drink" coaster which can be redeemed for a glass of house wine, domestic or craft beer, or a refreshing non-alcoholic beverage.
OUR ROOM
Core Welcome drink in hand, we made our way up to our room on the sixteenth floor. We were booked into one of the (not so) standard rooms, a Fashionista King. The king bed was the star of the show, with luxurious linens, head-swaddling pillows and European-style double duvets that felt like sleeping on a cloud. After a long flight from London, I wasted no time getting straight into the bed.
Beyond the bed, the room itself was a masterpiece of style and comfort. We enjoyed our view of the iconic brick buildings that New York City is renowned for, along with high-speed Wi-Fi, a 49″ HDTV, unlimited in-room bottled water, and an unlimited custom-blended tea and coffee. By far my favourite memory was arriving back after a busy day exploring the big (pine)apple, slipping into their snug signature bathrobes, and losing myself in the sheer comfort of The Naked Experience linens.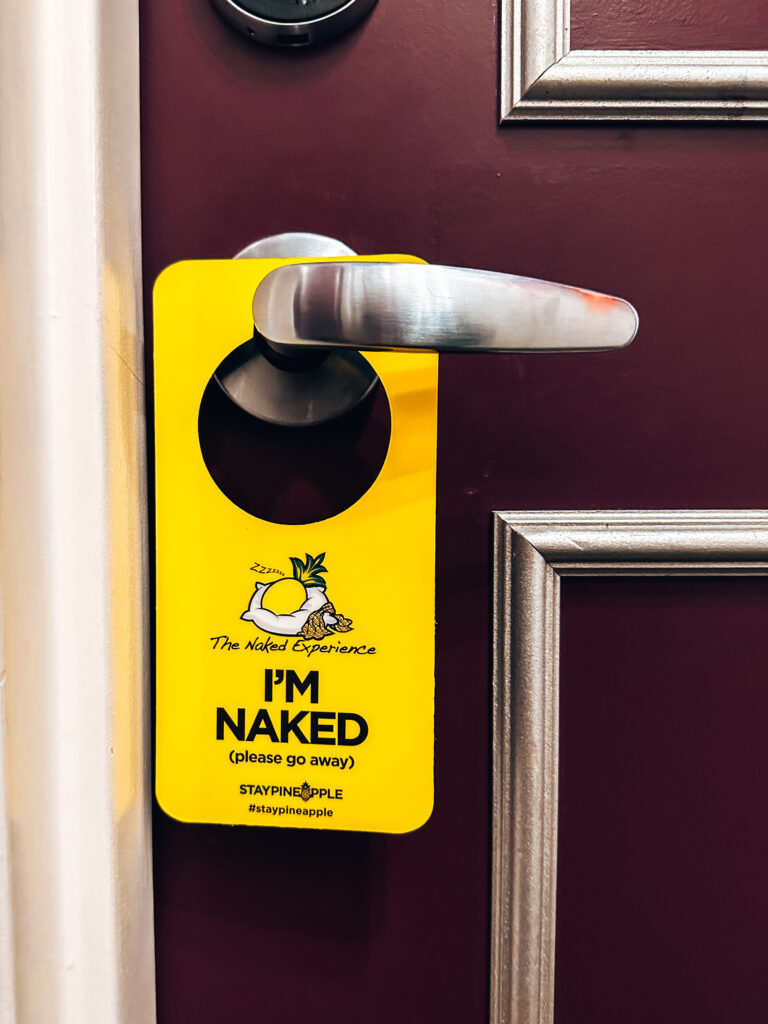 LOCATION
The central location of Staypineapple couldn't have been more perfect. Boasting a truly fantastic location in the heart of Midtown, this award-winning hotel is strategically positioned just steps from some of the most iconic attractions that give New York its name. From the bright lights of Times Square, and the Theatre District, to the architectural marvels of Hudson Yards, the culinary scene of Hell's Kitchen, and the world-class events hosted at Madison Square Garden, New York City is on the doorstep of Staypineapple.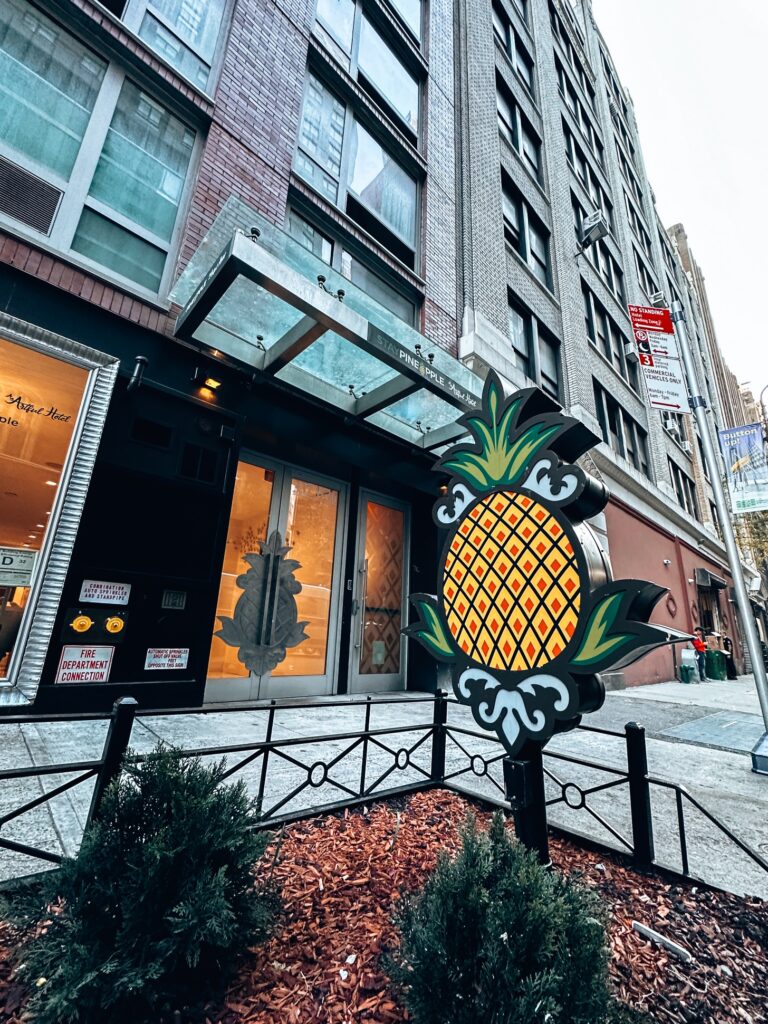 BEACH CRUISERS
Another of my favourite amenities offered to guests by Staypineapple were the iconic stylish yellow bikes. Their bright yellow cruisers not only look fabulous but also offer a comfortable and convenient way to explore the city, with a comfy seat, a helmet for safety, and a lock so you can lock it up if you need to take a break.
When it comes to exploring somewhere new, I love walking or cycling, as I believe they're the best ways to take in all your surroundings. In a city as vibrant and diverse as New York, it felt like an entirely new world waiting to be discovered around every corner. I must admit, the idea of cycling through the streets of New York was initially terrifying, especially considering that the road system is the complete opposite of what I'm used to in the UK. However, I'll never say no to a challenge, and hey at least I looked stylish while doing it on Staypineapple's iconic yellow cruisers.
DOG FRIENDLY
While many of you are familiar with Moose as my loyal sidekick on adventures, he unfortunately didn't join us in New York. But even when he's not with me, I love to experience hotels that would welcome him with open arms and Staypineapple takes being dog-friendly to a whole new level – they are downright dog-obsessed!
To all my fellow dog parents, you'll be delighted to know they offer a Pineapple Pup Package, which includes everything your furry member of the family needs to feel pampered. From a water bowl and tasty treats to a convenient dog waste bag dispenser and a comfy dog bed, they've thought of it all. It's just one more reason to consider Staypineapple for a memorable and pet-friendly stay in the city. And if, in the future, I can make it possible to bring Moose to New York, I already know where we'll be making our home-away-from-home.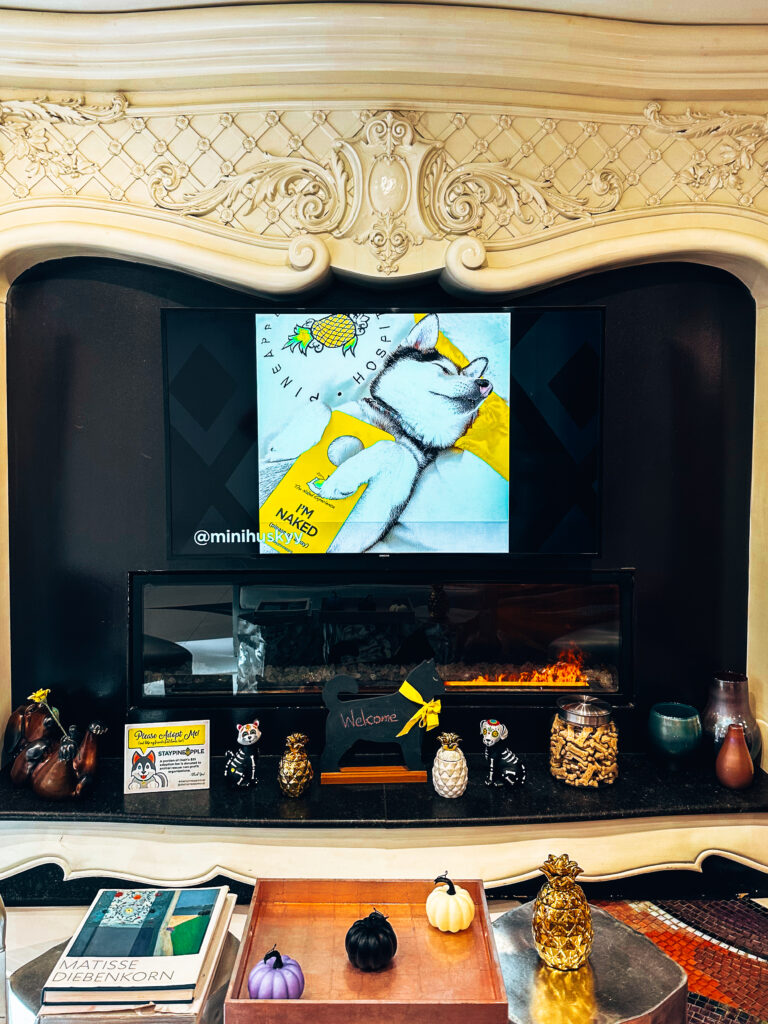 So there you have it. Our stay at Staypineapple in New York was the perfect welcome to the city. From the warm welcome at check-in to the playful pineapple-themed decor, exceptional service, and central location, this hotel exceeded all our expectations. Whether you're on a solo adventure, a romantic city-break, a family trip, exploring the city with a large group, or even with your furry four-legged member, I highly recommend Staypineapple to all travellers. I cannot wait for our next visit.