Set in the heart of one of New York City's most vibrant neighbourhoods, Walker Hotel Greenwich Village stands as a beacon of timeless elegance and luxury. With two boutique hotels to their name (Tribeca and Greenwich Village), Walker Hotels promise guests an authentic New York experience during every stay.
I am very excited to share the unique charm, exceptional amenities, and unmatched hospitality that defined our experience at Walker Hotel Greenwich Village, and truly made our stay a memorable one. Without further ado, let's dive straight in.
FIRST IMPRESSIONS
Stepping into Walker Hotel Greenwich Village, I felt I'd been transported to the Golden Age of New York City. The 113-room property is inspired by the Georgian revival architecture found on New York's famed Fifth Avenue of the 1920s. With its copper clad bay windows, cast stone trim, art deco-inspired details and its red brick facade, the hotel seamlessly weaved a narrative that pays homage to Greenwich Village's role as a sanctuary for artists, writers, and creative visionaries.
As I marvelled at the architectural details that surrounded me in the lobby, the friendly and accommodating staff made our arrival and check in a delightful experience, setting the tone for the rest of our stay. After being handed our room key, we were excited to make our way up to our room on the 10th floor.
OUR ROOM
We had the privilege of staying in one of their Bedford Doubles. The moment I pushed our door ajar, I knew I never wanted to check back out. Can I please move in Walker Hotel? My gaze was immediately drawn to the art-deco inspired Makassar ebony furniture, showcasing two double beds strategically placed to offer stunning views of New York City beyond the headboard.
One charming detail and a personal favourite feature that caught my attention was the vintage telephone resting on the bedside table. Wrapping up in one of their cosy robes, helping myself to a Walker biscuits and nestling myself into the inviting bed sheets, I couldn't resist taking advantage of room service – prosecco, pizza and donuts please!
The extra touches, including their luxurious Garnier Thiebaut linens and towels, Tivoli Bluetooth-enabled stereos, HDTV and Wi-Fi, exemplified Walker Hotel's dedication to providing a seamless blend of comfort and sophistication for guests. Regardless of the room you stay in at Walker Hotel Greenwich Village, each have been meticulously designed with guest experience in mind, meaning you can never have a bad stay!
FOOD AND DRINK
Walker Hotel Greenwich Village is home to the Society Cafe and Bar, a dining space open to both hotel guests and day visitors. Open for breakfast, lunch and dinner, Society Cafe serves market-to-table American cuisine, sourcing ingredients from the Union Square Market making it a must-visit for any foodie.
Once you've finished indulging in their culinary delights, you can make your way though to the jazz-inspired Parlour, an inviting lounge just off the hotel lobby where you can savour signature cocktails crafted by Walker Hotel's mixologists, local beers and their curated wine selection. And just when you think it couldn't get any better, the hotel even hosts its own live jazz music entertainment, Monday through Saturday from 6pm to 9pm. It quickly became our nightly tradition to enjoy some pre-dinner entertainment and, of course, take advantage of the hotel's happy hour.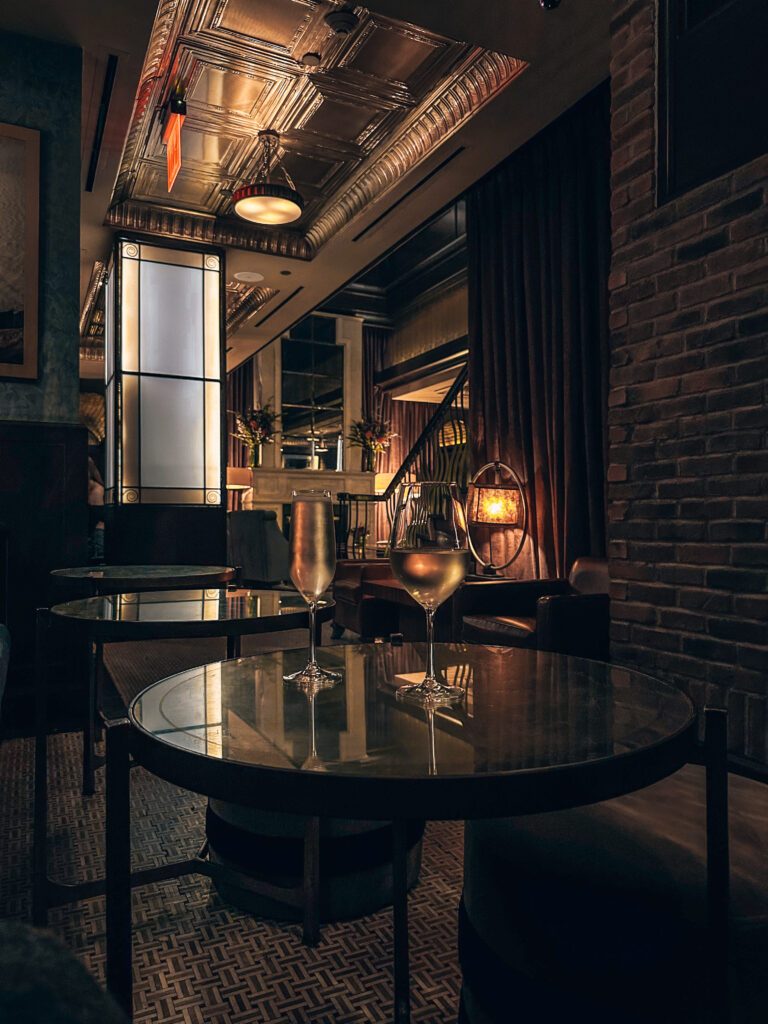 LOCATION
Walker Hotel Greenwich Village can be found on West 13th Street – one of the Village's prettiest and just a stone's throw from the cusp of Chelsea. The renowned Washington State Park, Jefferson Market and Union Square are all within easy walking distance. And, as someone who relishes discovering new places on foot, I was thrilled to learn the hotel offers guests a complimentary Greenwich Village walking tour every Sunday at 10 am with Streetwise New York. The guided tour provides insights into the artistic heritage of the area, spanning from past to present.
You know we can't talk location and not mention the array of culinary delights that surround Walker Hotel Greenwich village – think Murray's Bagels, Chelsea Market, Jack's Wife Freda, Stumptown Coffee, and the legendary Joe's Pizza. We were spoilt for choice. I'd created a note on my iPhone with a list of over 80 eateries which, evidently, I was never going to get around to trying them all. However, it does give me an excuse to return to New York City one day!
Whilst there is plenty to discover just steps from the hotel, Greenwich Village is one of the most convenient areas for getting around the rest of the city too. With 13 subway lines and the New Jersey Path Train less than 10 minutes away, the Walker Hotel becomes a gateway to limitless adventures, allowing guests to effortlessly uncover the very essence of Manhattan's diverse offerings.
DOG FRIENDLY
I always like saving my favourite bit until last. Dogs are welcome at Walker Hotel Greenwich Village and although I didn't encounter any dogs during our stay, as a dog owner, I appreciate staying in places that would extend a warm welcome to our four-legged companions just as much as their human counterparts. It's worth noting that their policy allows dogs under 50lbs at both of their properties, so one to watch out for if you're travelling with a dog larger than this. I can confidently say that Moose would have thoroughly enjoyed the hospitality at Walker Hotel.
To sum it up, our stay at Walker Hotel Greenwich Village was nothing short of extraordinary. From the art-deco inspired architecture that felt I'd been transported back in time to the 1920s, the hotel's prime location and the charm of the surrounding neighbourhood to the culinary delights, crafted cocktails and the added bonus of being dog-friendly, a stay at Walker Hotel makes for an unforgettable experience for every guest.