The Alexander House Hotel has held a coveted spot on my bucket list for quite some time, so when the team reached out to extend an invitation to experience an overnight stay and spa day at Utopia Spa, I was lost for words.
Situated in the heart of West Sussex, Alexander House marks the third hotel in the collection that I've been lucky enough to explore and review. It's not often I travel without Moose and whilst the estate is dog friendly, because of our travel plans I made the decision to leave him in the capable hands of his dog dad for boys' night. And instead, I treated my mum to a well-deserved spa retreat, perfect for a girls' getaway.  
Continue reading as I reveal all about our luxury retreat to the iconic Alexander House and Utopia Spa… 
FIRST IMPRESSIONS
Nestled within 120 acres of picturesque parkland in the idyllic West Sussex Countryside, the Jacobean manor dates back to the 17th century, and was once the residence of the famed poet Percy Bysshe Shelley, and author Mary Shelley. Today, the 5-star hotel boasts a collection of 57 individually designed rooms and suites, plus a 2-bedroom private residence 'The Gatehouse'. But the real standout is their iconic Utopia Spa which I'll delve into later on in this hotel review. 
As we stepped into the ornate reception of Alexander House, we found ourselves in awe of its sophistication and timeless elegance. As with each estate in the Alexander Hotel Collection, the Jacobean manor has been carefully designed, maintaining its palpable sense of history and prestige. The staff were warm and welcoming which immediately made us feel like honoured guests, and the luxurious surroundings we'd seen already promised a stay that would be nothing short of extraordinary. Whilst we waited for our suite to be ready, we made our way to the drawing room to indulge in their afternoon tea. 
AFTERNOON TEA
There is nothing more quintessentially British than afternoon tea. And the afternoon tea experience at Alexander House was delightful. The selection of homemade delicate finger sandwiches, freshly baked scones with clotted cream and jam, and an array of exquisite desserts were presented with artful precision. 
As we enjoyed our afternoon tea in the drawing room, I couldn't help but think about Moose, and how if he had been a guest too, he would have enjoyed his own Doggy Afternoon Tea. Alexander House's thoughtful approach to hospitality extends to even their four-legged guests as well. It's just one of the many ways they go above and beyond to ensure a memorable stay for all its guests, including the furry ones. 
GARDEN MASTER SUITE
With satisfied bellies, it was time to check into our room, and I must admit that I had no inkling of what awaited us. Just a short walk away from the main hotel led us to the Cedar Lodge Suites and as we opened the door to our Garden Master Suite, I was left speechless for the second time. The suite featured a separate lounge area with a comfortable corner sofa and bespoke furniture that included some remarkable, one-of-a-kind pieces. And the views of the stunning Sussex countryside and a terrace with sun loungers were enjoyed as we tucked into the chocolate dipped strawberries that were awaiting our arrival.
The suite's pièce de résistance was its two luxurious bathrooms. Both boasted walk-in rain showers and underfloor heating for ultimate comfort. The upstairs bathroom took luxury to the next level with an oversized bathtub and a captivating feature stone-built wall. You know I'm a sucker for a hotel bathtub and I will never say no to a bubble bath. 
For the perfect finishing touches, we were spoilt with an emperor bed, a choice of four mood lighting options and a fully integrated audio system. In essence, the Garden Master Suite was a sanctuary of comfort, style, and modern luxury (and I never wanted to leave).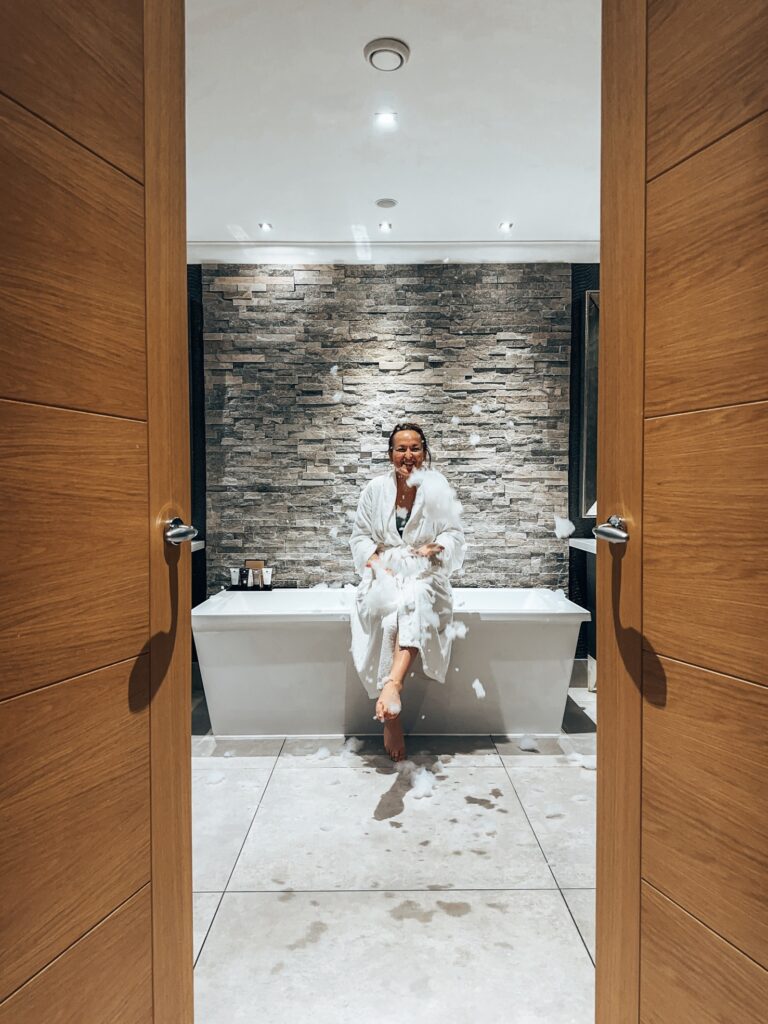 FOOD AND DRINK
Food and drink is at the heart of all of the properties within the esteemed Alexander Hotel Collection. Having had the pleasure of savouring meals at some of the other estates within the collection, I was eagerly anticipating the gastronomic delights that awaited us. Despite not long after having eaten our afternoon tea, I was already looking forward to dinner! 
At Alexander House you'll find two restaurants, a champagne bar and the drawing room I mentioned earlier. We booked to eat dinner in their Reflections restaurant, a 2-rosette bistro-style dining space which wraps around a courtyard, offering an idyllic setting for alfresco dining during the warmer months. Typically, when Farley and I travel with Moose we're not allowed to to enjoy the main restaurants, for obvious reason. Thus, this dining experience at Reflections was indeed a special treat!
Everything on the dinner menu looked so good, making it a challenge to choose! I settled on the Jerusalem Artichoke Arancini to start, followed by the Vegetable Risotto as my main course, and naturally the Chocolate Tart was the perfect choice for dessert.
Let's talk about breakfast! In case you didn't know, breakfast just so happens to be my absolute favourite meal of the day, and I must say that Alexander House continued to exceed my expectations. They organised breakfast in bed! Smashed avocado, yoghurt, fresh fruit, warm danish pastries, a comforting cup of hot chocolate and a refreshing glass of freshly squeezed apple juice was the perfect wake up call.
UTOPIA SPA
The part of the review you've been waiting for… Alexander House is home to the multi award-winning Utopia Spa. With an impressive 25 treatment rooms, including three couple's treatment rooms, as well as inviting relaxation lounges, Utopia Spa is a sanctuary like no other. What truly sets it apart, and my favourite features were the bespoke outdoor barrel sauna and a thermal whirlpool hot tub, where guests can immerse themselves in the serene surroundings.
Utopia Spa's ethos revolves around rejuvenating the body, mind, and soul through a blend of heat, water, and scent therapies. They offer a range of bio-nutritional therapies by OSKIA of London and aromatic treatments from Temple Spa. Additionally, the spa offers its own exclusive Utopia rituals, all crafted to help guests rediscover their centre and achieve a sense of balance.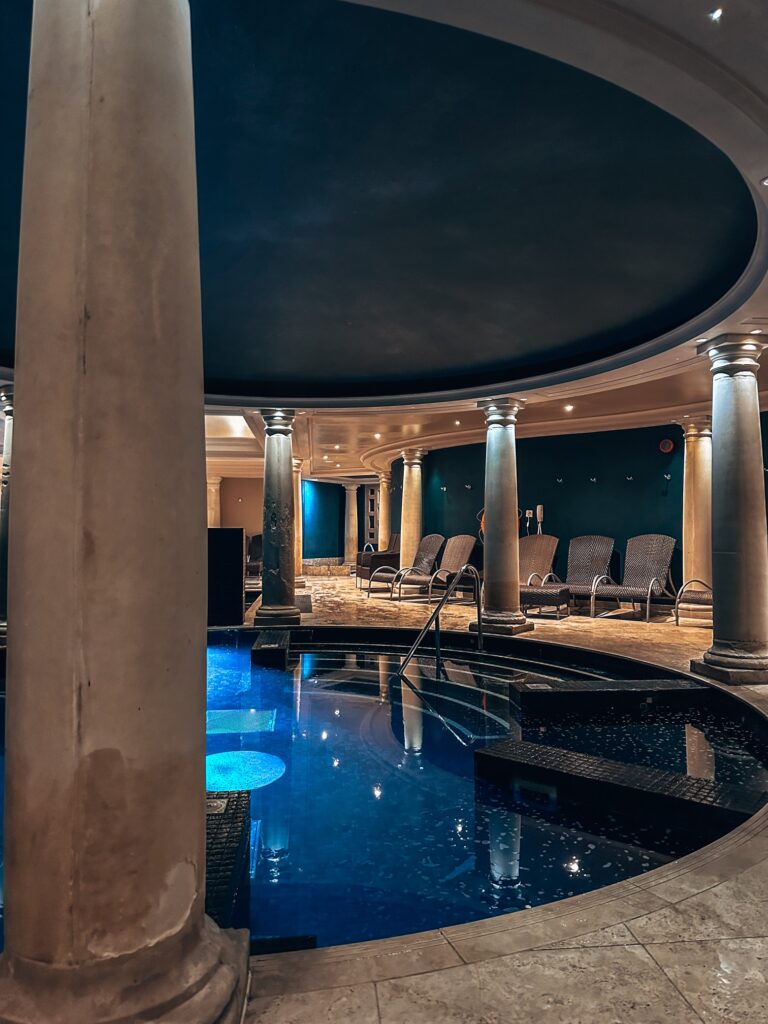 During my stay, I had the privilege of experiencing one of their brand-new spa treatments, the Oskia-Hydration Body Therapy. It was a revitalising full-body ritual that began with a soothing exfoliation, followed by a hydrating treatment that left my skin feeling incredible. The tension in my body melted away with a warming back, shoulder, and neck massage, which was then followed by a truly blissful contouring facial and scalp massage. I left feeling on cloud nine. 
After my treatment, I continued to spend the day relaxing wrapped in my fluffy robe, enjoying refreshments from the outdoor bar and loosing myself in the pages of a good book by the pool.
Utopia Spa is more than just a spa; it's a sanctuary meticulously designed to whisk your senses away from the ordinary. It is without a doubt, a haven for those seeking the perfect blend of serenity and rejuvenation, and was the highlight of our stay.
Thank you Alexander House and Utopia Spa for an extra special stay that exceeded all our expectations, you are a relaxation destination like no other. 
From the moment we arrived, the impeccable service, the attention to detail, and the exquisite surroundings enveloped us in a cocoon of comfort and serenity. Each aspect of our stay, from the luxurious Cedar Lodge Suites to the award-winning dining experiences and the spa treatments at Utopia Spa, will be something I'll never forget.
The only thought that lingered in my mind when I checked out, was the eagerness to return, not just for my own enjoyment but also to bring Moose to experience the extraordinary dog-friendly hospitality that Alexander House and Utopia Spa graciously offer.